Samsung Galaxy S II (GT-I9100) (Alternative)
I've had a few emails about this device over this last week so I thought I'd give you a look at the videos we're including in the main review. This will give you a good look at the handset including the Kies air app, text entry, Samsung hubs, video editing, voice commands and much more. Go on, dive in and take a look. Everything is in HD so feel free to switch up the YouTube resolution.
If you like what you see, get one from Clove unlocked for £528.
http://www.youtube.com/watch?v=P3Dttl4Ks7c&feature=player_embedded
http://www.youtube.com/watch?v=vTU5OklRLoQ&feature=player_embedded
http://www.youtube.com/watch?v=cgobUHb1ZQ4&feature=player_embedded
http://www.youtube.com/watch?v=wsdZwqMaZr4&feature=player_embedded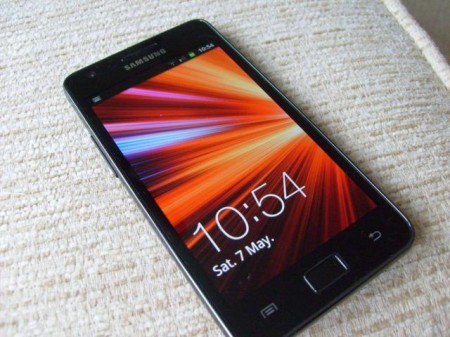 Want some up-close shots of the Samsung Galaxy S II ? Well, if our photos from back in February weren't enough, we've now added these extra shots of the handset we have on loan from the lovely people at Clove.
I'm using it fairly heavily at the moment and seeing around 25% battery life left at the end of the day – that's a marked improvement on other handsets I've used. Today it has been on since 7AM with 1 hour of iPlayer usage, 30 minutes of streaming audio, about 10 texts, 20 minutes of internet browsing and roughly 20 minutes Tweeting. WiFi has been on during that time but, as I write at 9PM (14 hours after powering on) I have 33% battery left.
I've got a couple of example videos from the phone, both filmed in full 1920×1080 HD. This first one shows the constant focus whilst the second one, filmed last night, shows how good it'll film in the dark – during a storm! I actually trimmed the second video down with a fre Android app called "VidTrim". Both were then uploaded direct from the phone to YouTube over WiFi so, oh.. you better add that to today's activities. 33% battery life remains.
That full HD 1080p recording is pretty stunning I must say. Hmm.. let me just check something now. Sony Ericsson Xperia Arc camera – amazing. Samsung Galaxy S II camera – amazing. HTC? You need to step up your game.
http://www.youtube.com/watch?v=7ZziMxblTUQ&feature=player_embedded
http://www.youtube.com/watch?v=10pKahnxa70&feature=player_embedded
The Samsung Galaxy S II / GT-I9100. Call it what you will, it's ruddy quick. Equipped with a dual-core 1.2GHz chip it's already blown away most of the competition with benchmark results like this. The specs are all very decent indeed. That large 4.3″ 480×800 pixel super AMOLED WVGA display also brings colours to life and works well in direct sunlight, as you'll see in the video below.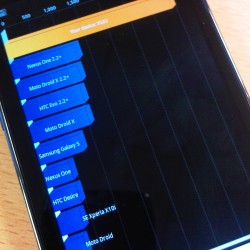 This is the 16GB model, from Clove, but you can also get a 32GB version. Inside you get 1GB of RAM and an 8 megapixel camera at the back. Up front is another camera with a 2 megapixel resolution. Once you've finished recording your HD video there's either a WiFi or HSPA for sharing it on the web plus aGPS, Bluetooth v3.0, 3.5mm audio jack, a microUSB connection and Android Gingerbread.
We'll be testing the DLNA "AllShare" system later and will be taking you around the handset a bit more in the coming days, but until then here's our video tour..
http://www.youtube.com/watch?v=P3Dttl4Ks7c&feature=player_embedded
Links – Clove.co.uk – More pictures